Stocks — at least as measured by the Dow Jones Industrial Average and the S&P 500 — are mowing down milestones at a torrid pace in 2021.
The Dow
DJIA,
-0.10%
on Monday pushed above the 35,000 level for the first time, before trimming gains and getting pulled back below the milestone as tech shares slumped sharply. The Dow on Friday logged its 24th record close of 2021.
While the Dow grabs the headlines, at least outside of financial news sites, the more important tea leaves might be offered by the S&P 500
SPX,
-1.04%,
which scored its 26th record close of 2021 on Friday.
If the pace continues, the S&P 500 could tally 75 new all-time highs through the remainder of the year, noted Sam Stovall, chief investment strategist at CFRA, in a Monday note. The large-cap benchmark has already topped the average of 27 new highs per calendar year since 1954, when the 1929 peak was finally exceeded.
At 75, it would also be the second-highest number of highs in a calendar year, just two shy of the record 77 set in 1954 and 1995, Stovall said.
That's interesting history, but what does it say about the present market backdrop?
"Interestingly, no bear market materialized within 12 months of the seven years with the top counts, yet bear markets were the norm for the remaining years," Stovall said. A bear market is typically defined as a pullback of at least 20% from a recent high.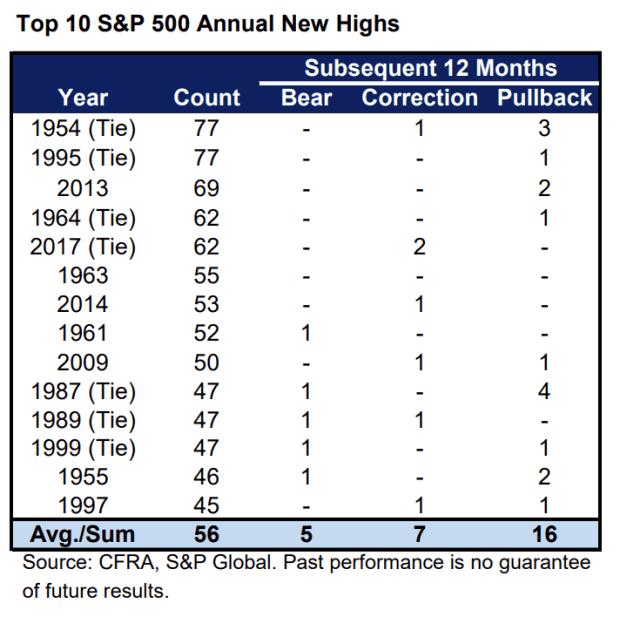 "Enhanced volatility typically followed all of these new-high years, since 13 of the 14 years with the top new-high counts endured at least one bear, correction (a fall of 10% to 19.9%) and/or pullback (a fall of 5% to 10%) in the subsequent 12 months," he said (see chart above).