MarketWatch has highlighted these products and services because we think readers will find them useful. We may earn a commission if you buy products through our links, but our recommendations are independent of any compensation that we may receive.
My home office is the stuff of Marie Kondo's nightmares — stacks of papers in no particular order, tangles of chords, multi-colored post-its haphazardly stuck all over. And last week, after tripping over a pile of chords and spilling iced coffee onto some papers, I realized I'd had it. Apparently, I'm not alone: "The office is by far the number one space in the house that people struggle with," says Alejandra Costello, an organizing expert with more than 1 million YouTube subscribers whom Inside Edition once noted could have "the tidiest home in the country." Here are the smartest hacks organizing experts recommend for keeping your home office tidy.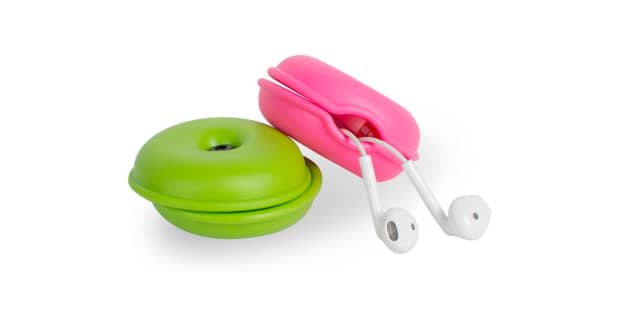 Do you have a computer, printer, charging or headphone cords cluttering up your desk? Costello says donut-shaped cord organizers like these are a great and inexpensive way to keep your cords "neat and organized." These cord donuts come in a five-pack (give one to your other family members), and with their sunny colors, look great on your desk. Buy here on Amazon.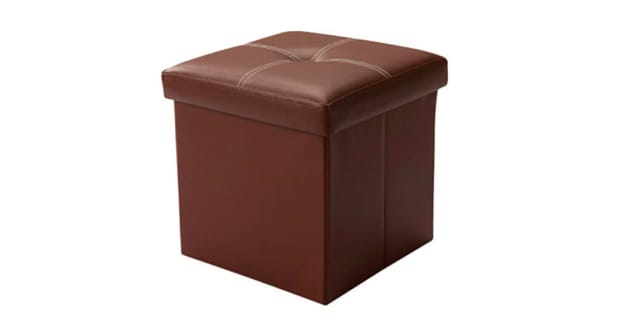 Lauren White, owner of organization firm Intentional Edit, loves ottomans that double as storage for file folders. You can use the ottoman as a place to prop your feet up after a long day at the office, or as a mini-table — all while they're doing the extra work of keeping your files organized. This works well for files you don't need to access regularly; for those you do, consider the hanging file organizer below.  Buy here on Amazon.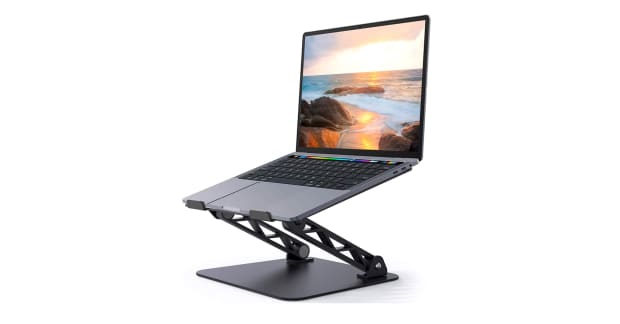 Professional organizer Robyn Reynolds loves a computer riser for desktop organization, noting it "saves space and can also be found with holders for phones or small drawers" and can "create space underneath for items you use daily (stapler, tape dispenser, pen holder, post-its, etc.)." Buy here.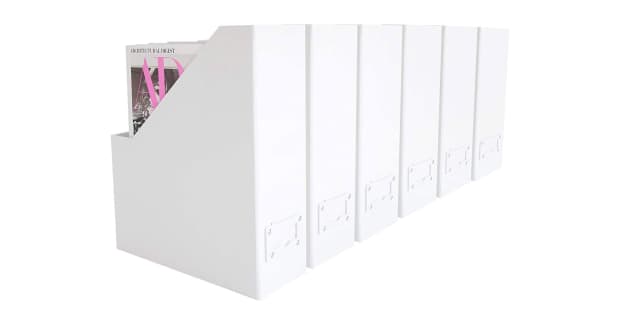 Often, we need to see the files we've organized to remember what goes where. "One of the best tricks to manage paper is to get it vertical," says Amber Ehrlich, owner of organization company The Tidy Bungalow. "When stacked, it's not possible to easily access the papers you need."  She likes magazine organizers like this one, noting that "you can add and remove them as needed."
Costello recommends organizing files into "timely action" items that you need to take care of ASAP, a well as action items that you need to take care of but are slightly less urgent.  You can get more granular from there. Buy here.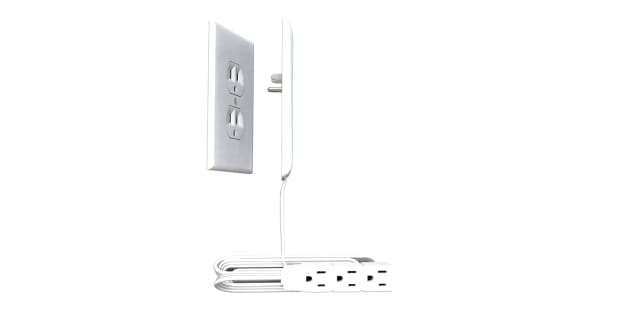 Ehrlich says this makes "a huge difference in rooms" by hiding ugly plugs and cords so they blend in with the room. The socket flat plug attaches over the top of standard outlets so you don't need tools to snap it on, and the kit includes adhesive strips to keep cords flush against the wall. With more than 15,000 reviews that average 4.7 stars, this is a hit with Amazon consumers too. Buy here.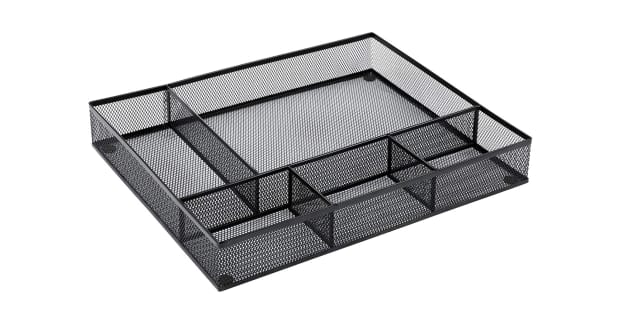 You want the surface of your desk to remain relatively uncluttered, says White, who recommends putting supplies that you don't use constantly into your desk drawer in some kind of desk organizer. These come in all shapes and sizes, so evaluate what you'll be putting in there first before you buy one. Buy here.